About Goa
Situated in the Konkan belt and southwestern coast of India, Goa is a land blessed with sand-filled beaches, towering palm trees, the vast expanse of the Arabian Sea and much more. It is one of the most popular holiday destinations in India and people from all over the world flock to this beach heaven all year around.
When it comes to Goa's history, it has a fascinating one filled with different influences. In the early 16th century, Portuguese traders and merchants arrived at its coast, conquered the land and ended up staying for a long time. Goa was ruled by the Portuguese for almost 450 years, leaving a lasting impression on the culture, cuisine, architecture and language. Goa gained independence in 1961, much after the rest of India did.
Even today, specific nuances of the Portuguese culture are still prevalent in Goa. In terms of religion, Christianity, Hinduism and Islamism are three faiths that are mainly prominent in Goa but more regional communities live in harmony together here. When it comes to celebrating any festival, everybody enjoys taking part in the celebrations. Ganesh Chaturthi, Diwali, Easter, Samvatsar Padvo, Eid and Shigmo are some more festivals that are celebrated with great zeal in Goa.
All these factors have contributed to making Goa a popular holiday destination - for international and local travellers. There are Goa resorts offering holiday packages during festive seasons, peak tourism season and off-season time, making Goa a place to visit any time during the year.
Also Read: 5 Places To Visit In Goa That Are Not Beaches
About Club Mahindra Resorts In Goa
When in Goa, stay at one of the Club Mahindra Goa resorts. Situated in ideal locations, these Club Mahindra resorts in Goa come with spectacular views, creating a balance of stunning views of the sandy beaches, the vast expanse of the Arabian sea and lush greenery. Their architecture reflects typical Goan and Portuguese traits with spacious rooms and world-class amenities up for offer. Being a Club Mahindra member comes with its added benefits such as great discounts and deals.
Club Mahindra Emerald Palms Resort, Goa
How about staying in a resort in South Goa that looks like a typical Portuguese villa? Club Mahindra Emerald Palms Resort Goa is an excellent choice for your family vacation in Goa. The rooms are artfully decorated and host to various amenities. You can also avail the many services of the resort such as the swimming pool, gym or enjoy a tasty Goan meal at the in-house open-air restaurant. One of the best Goa resorts for sure!
This Goan resort is situated merely 10 minutes away from the stunning Varca Beach. From the moment you wake to the moment you call it a night, there is much for you and your family to enjoy. Start your day with a wholesome breakfast at the in-resort restaurant, La Terrazza. Then head out to Varca Beach to participate in some fun water activities such as Jet Skiing and Parasailing. The evening calls for something more relaxed so you can enjoy a drink or two at the Soul Bar or if the foodie in you is desiring for a delicious meal, succulent kebabs served at Barbeque Bay will be a wise decision.
Address: Pedda, Uttor Doxi, Varca, South Goa, Salcette, Goa 403721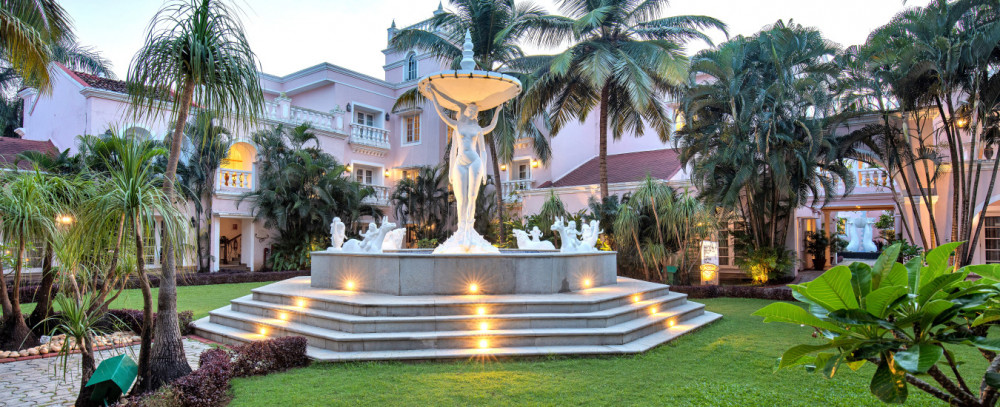 Club Mahindra Varca Beach Resort, Goa
The Club Mahindra Varca Beach resort is one of the best Goa resorts if you want to wake up and go to sleep with the serene view of the beach every day. It is situated approximately 45 minutes away from the airport and designed in an old Goan style. The resort houses 200+ spacious apartments, each one equipped with a private balcony. There are two swimming pools, two restaurants, a recreation centre, a state of the art gymnasium and a spa in this resort. But that's not all! There is also a fun zone, souvenir shop, play area for kids, laundry service and a parking facility available at the resort.
A great way to explore Goa would be to go E-cycling through the streets! This way, you can really soak in the local culture. Varca Beach is just a hop away so by the time evening rolls around, you can enjoy a romantic sunset walk on the beach with your partner. For the days you want to stay indoors at the Goa resorts, from theme nights to family pool parties, there is much for you to participate in. Of course, when in Goa, spending as much time as possible on the beaches is a must so why not enjoy a wonderful evening filled with drinks and dinner at Belcanto Shack on the beach?
Address: Survey No. 176/1, Varca Village, Salcette, Goa 403721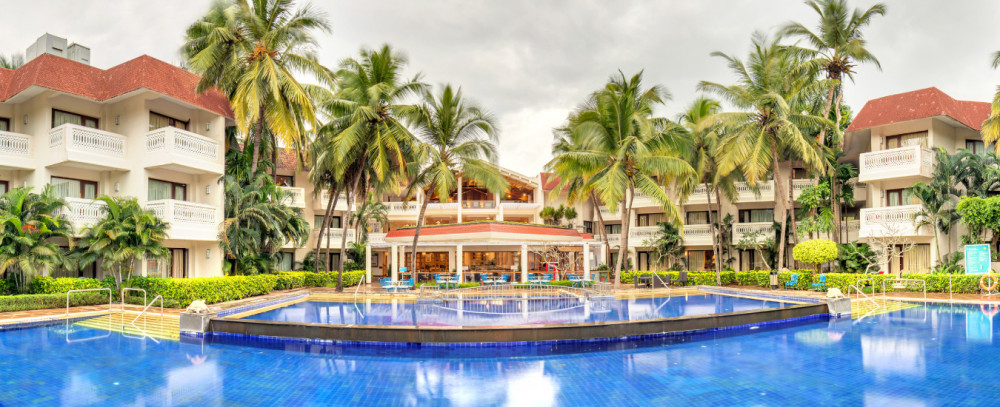 Club Mahindra Acacia Palms, Goa
Just a short distance away from Colva Beach in South Goa, Club Mahindra Acacia Palms is the third option among the Club Mahindra resorts in Goa and is one for the romantic souls. Each room is spacious, comfortable and comes with a private balcony with a view of the beach or a network of streams amidst greenery. Enjoy the services available such as the pool, Fidel's - cigar lounge bar, Spoon - eatery and cafe, Saltwater Pan Restaurant.
South Goa offers a melting pot of things to do and places to visit for you and your family. Spice plantation tours, heritage churches, flea markets and much more! Whether you are opting to stay indoors at the Goa resorts or venture out, Club Mahindra ensures that your family holiday is fun, memorable and full of incredible activities!
Address: 4th Ward, Colva Beach, Colva Salcette, Colva, Goa 403708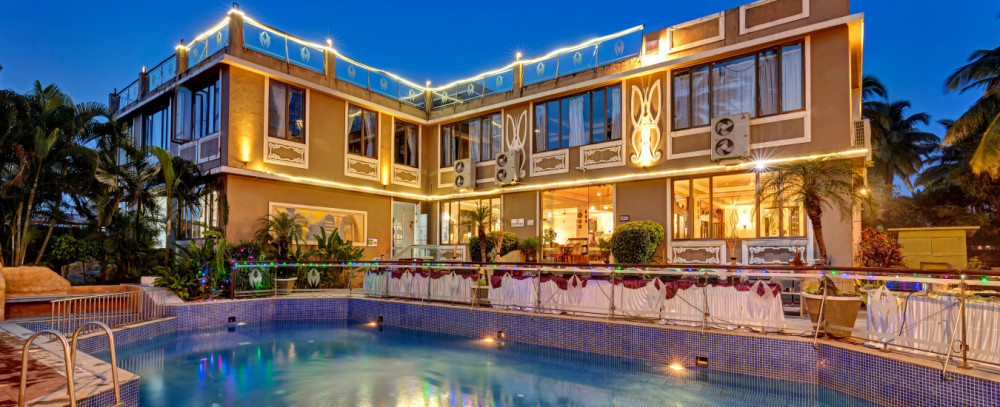 Each of these resorts exude an aura of warmth and generous hospitality. A family holiday at Club Mahindra is about enjoying time together and creating numerous memories to take back home.
Even while staying indoors, there won't be a moment spent idle, thanks to the many in-resort activities to indulge in!
Also Read: 5 Must Visit Historical Places in Goa
Places to Visit When Staying at the Club Mahindra Goa Resorts 
Visit Basilica of Bom Jesus
The Basilica of Bom Jesus is one of the most popular places to visit in Goa and is about an hour away from the Club Mahindra Goa resorts. Built in 1605, the oldest church in Goa serves as one of the most notable landmarks for Catholics. 'Bom Jesus' means' Good (or Holy) Jesus'. It is home to the remains of St. Francis Xavier. Even after 400 years, the remains are in excellent condition and the glass mausoleum is brought out once every 10 years (last viewed in 2014). The church has been declared as a UNESCO World Heritage Site and is a part of the Seven Wonders of Portuguese Origin in the World.
Trek to Dudhsagar Waterfalls
Dudhsagar literally means 'sea of milk' and is one of the tallest waterfalls in India. It is situated at the Goa-Karnataka border and if you are looking for a nature-related activity in Goa, a visit to Dudhsagar Waterfalls is a must. Deciduous forests surround it and the trek through the dense greenery is an exhilarating experience. Since it is situated in such a naturally untouched place, it is a slightly rugged and challenging trek to the waterfalls. You need to take a taxi from a small Goan village called Molem and you will be taken to a certain point. From there you have to make your way on foot. It is not an easy hike up to the waterfalls but for the view at the top, it is definitely worth the effort and the gorgeous view of the majestic waterfalls.
Visit Three Kings Church
In case you are looking to add a dose of spooky to your trip to Goa, add Three Kings Church as one of the places to visit in Goa. Situated on a lonely hill called Cuelim in Cansaulim in Goa  and about an hour away from the Club Mahindra Goa resorts, the church is believed to be haunted by three power-hungry kings. According to a legend, these kings were contending against each other to capture this part of the land and include it in their respective kingdoms. One day, King Holger Alvunger invited the other two kings for dinner. Little did anyone know, the king had poisoned his guests' food and they succumbed to their unfortunate fate at the dinner table. When the villagers found out what happened, they wished to avenge the deaths. To escape the villagers, King Holger consumed the poisoned food and died too. Then, the three kings were buried in the church premises. While physically dead, their spirits still roam the area. People living in the vicinity have reported that they can hear strange and loud noises echoing from the church post-sunset and it is believed it is the three kings!
Visit Lamgau Caves
One of the offbeat things to do in Goa would be taking a trip to the Lamgau Caves. Situated in North Goa, these man-made caves hold religious significance. It is believed the transition of Buddhism into Hinduism used to take place here. Back in the day, these caves served as the resting place for monks. While that is not the case today, the larger of the two caves acts as a refuge for trekkers or the occasional visitors during the monsoon season. You can trek your way up to these caves and spend a couple of hours enjoying the peace and tranquillity the place offers.
Visit Fort Aguada
Fort Aguada rests on Sinquerim beach, south of Candolim, you will come across Fort Aguada. It was built by the Portuguese in 1612 and used as a defence against the Dutch and Marathas. Another purpose it served was as a reference point for vessels (ships) coming from Europe. Aguada means 'water' in Portuguese and refers to the freshwater spring within the fort that provided water supply to these ships. The fort also houses a four-storey Portuguese lighthouse, erected in 1864 and the oldest of its kind in Asia. There is much to learn about Goa's Portuguese history at Fort Aguada. It is situated about an hour away from the Club Mahindra resorts in Goa.
Take a Trip to the Butterfly Sanctuary
The Butterfly Sanctuary will be another great inclusion to your list of things to do in Goa. The Mystic Woods Butterfly Conservatory is home to 100+ colourful butterflies. It is a beautiful initiative taken up by a couple who endeavour to convert the barren land into a lush, thriving forest with the help of these tiny flying creatures. The best time to visit Goa to catch a glimpse of these butterflies would be from September to December.
Visit a Spice Plantation
Apart from numerous beaches and food shacks, Goa is also home to several spice plantations. There is a lot to learn about the local spices that are grown and used in the region. While on tour, you can learn about the history of different spices and pick up some tricks on how to use these spices. You can also include a tasting session as part of the spice plantation tour and purchase a few at the end. Savoi Spice Plantation, Sahakari Spice Farms and Tropical Spice Plantation are some of the more popular plantations to consider adding to your unique list of tourist attractions in Goa.
Best Time to Visit Goa
March to May: The temperature can go up to as high as 40 degrees Celsius and it is scorching and humid. Goa is all about the beaches and enjoying the outdoors, but it can be a rather uncomfortable experience if you visit during the summer months. Goa tourism is at its lowest during summer but the upside is that you will not have to deal with crowds and the prices for accommodations and flights will be much cheaper. Also, Shigmo Festival is celebrated by Goan Hindus in March while the Cashew & Coconut Festival is celebrated sometime in May. Since this off-season time, holiday packages and deals come at affordable prices in Goa resorts.
June to October: People vacation in Goa for the ever-shining sun and sandy beaches. But from June to October, you will be greeted with gloomy skies and damp beaches. Most water sports are not available and only water rafting will be open for business in most places. This is not the best time to visit Goa for the beaches but it is the best time to visit Goa for nature-related activities such as trekking, nature trails, wildlife sanctuaries and spice plantations. Also make sure to visit the vibrant and grand Sao Joao festival, including a grand feast in honour of Saint John the Baptist, the prophet who baptised Jesus.
November to February: November to February is considered as peak Goa tourism season. The weather is cool and there is a lot more to explore and experience during this time of the year. There are also so many water sports and recreational activities to indulge in. Numerous parades, parties and local fairs are also taking place during the winter weeks so you won't have any empty spaces left on your itinerary. The Goa Food & Culture Festival and 'Intruz' (Goa Carnival) take place in February. These festivals are a big hit among food-lovers and culture-enthusiasts. The main downside is that Goa is very crowded during this time and Goa resorts and flight rates are soaring high.
How to Reach Goa
Airways: The quickest way on how to reach Goa is to take a flight. Dabolim airport is the closest domestic (Terminal 1) and international (Terminal 2) airport to Goa, located about 26 km away from Panaji. AirAsia India, Air India, GoAir, IndiGo, Jet Airways and SpiceJet have regular flights operating to and from Bangalore, Delhi, Mumbai, Lucknow, Kolkata, Indore, Chennai and Pune. In regards to international flights, Muscat, Doha and Copenhagen are some cities who have airlines travelling to Goa. It takes 45 minutes to 90 minutes to reach Goa while travelling interstate.
Railways: If not by flight, railways is an affordable and suitable option too. It is a convenient and cost-effective way of answering your question of how to reach Goa. There are two main railway stations - Vasco da Gama and Madgaon - that are well-connected with other cities of India such as Mumbai and New Delhi.
Roadways: At least once, you should take a road trip to Goa with friends. The entire journey is an experience in itself as you keep moving away from concrete cities and inching closer to stunning views. A road trip to Goa is a popular choice for driving down the highways (NH4 from Mumbai and NH17 from Mangalore). If you don't want to drive, you can also travel by bus. Karnataka State Road Transport Corporation (KSRTC), Maharashtra State Road Transport Corporation (MSRTC) and KTC are some of the popular bus services taking you to Goa from Mumbai, Pune and Bangalore.
Also Read: 5 Things to do in Goa
Shopping Places Near Club Mahindra Resorts in Goa
Apart from the sun, sand and seafood, Goa is also great for shopping. Whether it is the street markets of Baga or night markets of Arpora, there is much that Goa has to offer. There are high-end luxury stores as well as local flea markets to explore. Each of these bazaars and markets puts on a colourful array of items on display. You can find some unique and one-of-kind items at these markets. You can also source out some great books, vintage clothes, interesting trinkets and souvenirs, antiques, handicrafts and much more. Some of the most popular shopping places in Goa are:
-Anjuna Beach Flea Market
-Calangute Market Square
-Mackie's Night Bazaar
-Tibetan Market on Baga Road
-Panjim Market
Café and Restaurants in Goa
Cafe Bodega
Cafe Bodega can be a great option to start your day with a scrumptious and filling breakfast? The Cucumber Cooler and Waffles are so yum!
Address: 63/C-8, Sunaparanta Centre For The Arts, Altinho, near Lar De Estudantes, Panaji, Goa 403001
The Black Sheep Bistro
Considered as one of the best restaurants in Goa, The Black Sheep's concept is all about farm-to-table. The Chorizo Pav and Ghee-roasted Pork Ribs are some of the best dishes you will get to eat in Goa.
Address: Swami Vivekanand Road, Altinho, Panaji, Goa 403001
Cafe Chocolatti
It is situated inside the owner's residential villa and is quite a green paradise. After a morning of exploring and shopping, you can come here for a quick break. The homemade chocolates and strawberry jam are a must!
Address: 409A, Fort Aguada Rd, Candolim, Bardez, Goa 403515
Mum's Kitchen
Heads up, you will have to book a table much in advance if you want to enjoy a meal at Mum's Kitchen! Take your pick from an extensive menu and feast on comfort and wholesome food. Some of the popular dishes served at Mum's Kitchen include Prawn Curry, Pork Vindaloo, Peri-Peri Prawns and Sol Kadhi.
Address: 854, Martins Building, D. B. Street, Road, Miramar, Panaji, Goa 403001
Bhatti Village
Dine at Bhatti Village with your family for an authentic Goan meal! The seafood and pork dishes in particular are very famous at Bhatti Village.
Address: Bhatti Waddo, Nerul, Goa 403114
Baba au Rhum
Situated somewhere between the paddy fields and bamboo forests of Anjuna, Baba au Rhum is considered as one of the best places to eat in Goa. The Hercules Burger is going to be one of the best burgers you will ever have!
Address: House No. 1054, Sim Vaddo, Anjuna, Goa 403509
Calamari
For those looking to feast on finger-licking food, seafood and Goan dishes, Calamari is one of the best restaurants in Goa for that. Whether it is the Deep-fried Calamari, Prawn Cocktail or the Recheado Masala, you are in for a delicious treat!
Address: Dando Beach, beside Santana Beach Resort, Candolim, Goa 403515
Gunpowder
Gunpowder is all about cosy and rustic vibes! Here, you will be feasting on the flavours of South India such as Fish Curry, Malabari Parrotta, Mutton Fry and Appams. It is a popular spot for dinners, so make sure to get in early or else you will have to sit at the bar for a while.
Address: No. 6, Anjuna Mapusa Road, Saunto Vaddo, Assagao, Goa 403507
Blue Planet Cafe
This one is for the vegans. Blue Planet Cafe sports a laid back and relaxed vibe which is perfect for a day you want to take as slow and easy. Make sure to try out the cheesecakes and the Peanut Chocolate Banana Smoothie (it's YUM).
Address: Agonda, Canacona, Goa 403702
Pink Chilli
It's the bright colours and Indian elements added to the decor that makes Pink Chilli stand out! The Goan Fish Thali paired with beer is a must-try!
Address: 350 Bokeachi Aradi, Parra, Goa 403518
Thalassa
Overlooking Vagator Beach and the Arabian Sea is the popular Thalassa restaurant. The Greek-style restaurant ticks all the right boxes - food, service and ambience! Since it sits atop a hill, you can enjoy an incredible sunset to go with your meal. Make sure to try the Meat Platter, Vegetarian Moussaka and Baklava at Thalassa.
Address: Plot No. 301, 1, Vaddy, Siolim, Goa 403517
Eva Cafe
It's white walls, rustic vibe and breezy ambience will give you a very Grecian vibe. The Green Shakshuka and Blue Cheese Salad are two of the most popular dishes served here.
Address: Hno 129/45, Anthony Street, Dmello Vaddo, Anjuna, Goa 403509
Nightlife In Goa
It's not a secret that Goa has a thriving nightlife. From one end of Goa to another, a beach party or a nightclub is luring you towards itself every night. When the sun goes down, this is the other side of Goa that travellers get to experience. With great music, great food and great company, Goa is one of the most sought after places for a good time. Places such as Britto's and Café Liliput still stand tall as some of the most popular places for a good time out. Among the recent developments, SinQ and LPK that mark Goa as a global, cutting-edge party destination. You can also try your luck and gamble in the Goa casinos - it's legal and quite fun. Goa is also host to many night bazaars and markets, offering an assortment of handicrafts, clothes, shell jewellery and other attractive stuff. These places are just a short distance away from most Goa resorts. Some of the famous places for nightlife in Goa include:
-Tito's Pub
-Club Cubana
-Curlies Beach Shack
-Britto's
-SinQ
-Zanzibar
-LPK
-Cafe Lilliput
-Thalassa
-Monkey Valley
Adventure Activities In Goa:
Holidaying in Goa is more than just lazing around and eating fresh, delicious seafood being served at the beach shacks - it's about participating and enjoying the numerous adventure activities it has to offer! From scuba diving to trekking to paragliding, there is a lot to include in your itinerary! While staying at the Club Mahindra resorts in Goa, you can find out more about which adventure activities you can enjoy: Here are some of the adventure activities in Goa that you should know about:
Water Rides In Goa
There is an abundance of water-related activities in Goa for you to enjoy. From kayaking to paragliding to sailing to jet-skiing, there is no shortage. Since November to February is considered as the best time to visit Goa, these water rides and activities are in full swing during these months. While there are more options, there are also long waiting queues that you will have to deal with.
Trekking In Goa
When you want to take a break from the beaches and water sports, Goa has some great terrains to go trekking as well. Dudhsagar Waterfalls, Arambol Trek, Udaan Dongor Trek and Todo Waterfalls are some options that you can consider. Each of these treks has something unique to offer and the entire experience can be exhilarating and worth it.
Bungee Jumping In Goa
Ever wondered what it feels like if you jumped off from a height? Bungee jumping is an activity that involves a person jumping from a great height while connected to a large elastic cord. There is a launchpad erected on a tall structure (building, crane) and a bridge across a deep ravine or a cliff. Bungee jumping in Goa has recently become a part of the adventure sports available. Most of them are located near the beaches and are simply unmatchable with the experience one can have in any other city.
Paragliding In Goa
Paragliding in Goa is possible at many of its beaches including Calangute, Arambol and Anjuna. Paragliding cost in Goa for an hour is Rs. 3,000 per person. Make sure to head to the beach early to beat the crowd and reserve an early spot in the queue. Paragliding is thrilling and adrenaline-inducing. For any first-timers and those having qualms about the sport, please note that it is very safe but make sure to pay attention to your instructor.
Camping In Goa
Specific beaches have started including camping as one of the recreational things to do in Goa. It's a great way to connect with nature where you will be sleeping under the stars and enjoying the wilderness (in this case, the sand) that surrounds you. Camping in Goa is one of the offbeat activities since most people tend to stick to water activities and adventure sports.
Snorkelling and Scuba Diving in Goa
Scuba diving in Goa is a fun water-based recreational activity that you can include in your list of things to do. The world underwater and its marine life is incredibly fascinating. You can learn to submerge yourself a few metres under the water's surface and be a part of that one-of-a-kind experience. Some of the best places to visit in Goa for scuba diving and snorkelling are Calangute Beach, Baga Beach, Sail Rock, Uma Guma Reef and Bounty Bay.
Famous Food in Goa
When it comes to the food, there is a good mix of Portuguese, Brahmin and Konkan flavours that are enjoyed in Goa. Since it's a coastal paradise, you will also find a plethora of seafood preparations to try. Kokum, coconut and rice are common ingredients and are used in various ways while cooking.
In terms of food, Portuguese dishes and a plethora of seafood form the heartbeat of Goa's local cuisine. Chicken Cafreal, Pork Vindaloo, Sorpotel, Balchao and Caldeirada are some of the popular Goan Portuguese you will get to enjoy in the restaurants in Goa. In terms of seafood, there are a lot of Goan Saraswat flavours to savour. Restaurants in Goa will serve seafood dishes such as Prawns Hooman, Kismoor, Crab Masala and Fish Curry.
Goan Saraswat cuisine is regional cuisine that may not be as popular as the Portuguese spread but it is equally delicious. The cuisine is a balance of seafood and vegetarian preparations. Goan Saraswat Brahmins believe that fish are sea vegetables and hence, can be a part of their diet. Meat is not generally consumed.
A great way to learn, understand and enjoy the authentic flavours that Goa has to offer, is by dining with locals. There are portals and activities that help arrange an activity where you can learn to cook some of these dishes, followed by a hearty and wholesome meal prepared by your hosts. This is also a great way to soak in the local culture and learn more about the cuisine and traditions that makes Goa so special.
If you don't want to venture out, the in-house restaurants in most Goa resorts do not disappoint either in putting up a large and varied spread of delectable Goan dishes. You can savour authentic Goan flavours while staying indoors.
Know How Staying in Club Mahindra Goa Resorts Can Make a Difference
Club Mahindra endeavours to make your holiday as special as possible. It is renowned for its generous hospitality and services. What's more, Club Mahindra Membership comes with some great offers! There are various membership plans (so you can choose the one that suits you best. You can opt for EMI payments which start as low as Rs. 4,303. What's more, you will be gaining access to 100+ resorts and 1000+ unique experiences. Now, doesn't that sound like something you would want to be a part of?
How to Become a Member with Club Mahindra?
The process of becoming a Club Mahindra is easy and quick. All you have to do is fill in a few basic details about yourself and then select a membership plan most suitable for you and your family. If you are unsure of which one to choose, you can contact a Club Mahindra expert and find the perfect holiday membership plan. Here's a look at the different Club Mahindra membership plans:
- Purple Season Membership: Weekend getaways became a lot more affordable and fun with the Purple Season Membership!
- Red Season Membership: The Red Season Membership is perfect if you wish to travel during peak holiday seasons (summer holidays, Diwali, Christmas & New Year).
- White Season Membership: Just before or after the peak season, when the crowds are thinning in numbers, the White Season Membership will be most useful!
- Blue Season Membership: The Blue Season Membership is perfect for the off-season vacations where you get to witness a different side of the place you are travelling to.
Types of Accommodation in Club Mahindra Resort in Goa
A Club Mahindra accommodation is at least twice the size of your average hotel room! Depending on the size of your family, you can choose to stay in an apartment room or suite. Most of these accommodations at Club Mahindra resorts in Goa come with attached balconies. The Club Mahindra Goa resorts also have a fitness centre, a spa, in-resort restaurants and a pool.
How Club Mahindra Goa Resorts are Safe and Hygienic?
Travelling during a pandemic requires researching COVID-safe resorts for you and your loved ones. Every part of every Club Mahindra Goa resorts is being cleaned regularly by the housekeeping for you to #TravelWithConfidence and have a #CMSafeStay. Club Mahindra has partnered with Bureau Veritas to ensure top-notch sanitation standards.
Club Mahindra resorts in Goa are the ideal accommodations for you and your family. Detailed attention is being paid maintaining hygiene and cleanliness at Club Mahindra resorts so that guests can have a #CMSafeStay. Club Mahindra is making sure to follow all travel safety guidelines for families holidaying during COVID-19.
FAQs
What are the popular places or landmarks to book Goa resorts?
St. Anthony Chapel, Benaulim Beach, Basilica of Bom Jesus, Salim Ali Bird Sanctuary, Dudhsagar Waterfalls, Colva Beach, Dolphin Point Spice Plantation Tour and Fort Aguada are some of the popular places or landmarks to include in your itinerary while booking your stay at one of the Club Mahindra Goa Resorts.
Which is better - South Goa or North Goa?
While North Goa is all about the nightlife and shopping, South Goa is about the quiet beaches and scenic drives. Each part of Goa has something unique to offer, so it is difficult to say whether North Goa is better or South Goa. Depends on the holiday you are planning and what you want to include in your itinerary.
Which are the best Club Mahindra resorts in Goa for the family?
The best part about the Club Mahindra resorts in Goa is that they are suitable for everyone. Whether you are travelling with your family, parents, children or just your partner, Club Mahindra Goa resorts offer different accommodation options, in-resort activities and holiday packages.
Which beach is the best nightlife in Goa?
Goa is known for its nightlife. Once the sun sets, you get to witness the beat-thumping and lively side of Goa. From the beach parties to nightclubs to silent discos, there is a party waiting for everyone. Baga Beach, Candolim Beach, Morjim Beach and Palolem Beach are some of the beaches best known for their nightlife in Goa.
Which is the most beautiful beach in Goa?
Every beach in Goa has its USP - great food shacks, a wide range of sports activities, local markets or stunning views. Some of the most popular and beautiful beaches that people love to visit are Calangute, Palolem Beach, Anjuna and Baga Beach. Club Mahindra resorts in Goa are located just a short distance away from these beaches!
About Club Mahindra
Mahindra Holidays & Resorts India Ltd. (MHRIL), a part of Leisure and Hospitality sector of the Mahindra Group, offers quality family holidays primarily through vacation ownership memberships and brings to the industry values such as reliability, trust and customer satisfaction. Started in 1996, the company's flagship brand 'Club Mahindra', today has over 250,000 members , who can holiday at 100+ resorts in India and abroad.
JOIN THE CLUB