As you grow old and go down the memory lane, you may realise that some of the best memories of your lives are of family holidays. Normally, you may not to spend quality time with your family due to various commitments. So, it is a blessing to get a full week-long vacation with family.
As a Club Mahindra member, you have amazing choices of family resorts in India. These resorts boast of premium amenities and give you the chance to indulge in a range of the range of activities. Let us look at some of the best Club Mahindra resorts for family activities.
Club Mahindra Arookutty
Club Mahindra Jaisalmer
Club Mahindra Virajpet
Club Mahindra Acacia Palms
Club Mahindra Puducherry
Club Mahindra Arookutty, Kerala
Get amazed by Club Mahindra Arookuty by admiring the beauty of Alapuzzha's famed backed waters. Along the banks of Lake Vembanad, many huts and cottages provide lodging but if you desire more cosy lodging and premium amenities, Club Mahindra Arookutty is the place to be.
During your stay at the Club Mahindra Arookutty, you can be sure that your mornings are are extraordinary as your nights.  Here there are plenty of things that would feed your soul with fun and excitement round the clock. You can enjoy a beautiful kayaking expedition over the soothing backwaters or pamper yourself with a rejuvenating massage at the in-house spa.
For kids, there are plenty of activities like seashell painting that brings out your kids' creative side or they can have fun with other kids jumping on the trampoline.
Club Mahindra Jaisalmer, Rajasthan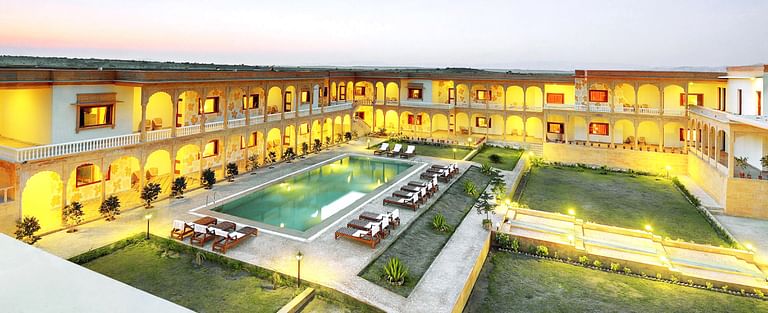 History and adventure converge at Club Mahindra Jaisalmer. Start your day with a fulfilling breakfast at the resort in Jaisalmer and head off for a desert safari with you family or with just with your special someone for a more intimate affair. If your kids are too small or if you are travelling with your elderly parents, you can sign them up for a Safari in the dessert.  
As you return after a fun day, you can keep the fun going on at night.  You can enjoy a beautiful live band show by the local artists who display the cultural richness of Rajasthan through their dance and songs as you gorge on a delectable Rajasthani meal. 
Club Mahindra Virajpet Resort, Coorg, Karnataka
If you seek silence, and solitude, head to Club Mahindra Virajpet Resort where you can find the most tranquil surroundings and scenic views near the resort.
The coffee plantations in the town are well-known. Take a well-organised trip to learn about the entire coffee industry, from the plantation to packing. Additionally, if you are looking for some adventure, you can go the open jeep safari or take a fun cooking lesson with your spouse where you can learn to whip a few local delicacies or two. For kids, there are plenty of activities like kids' theme party, where your child gets to dress as a their favourite character and mingle with other kids.
Club Mahindra Acacia Palms, Goa
There is no location better than South Goa for a relaxing beach vacation with the family. Club Mahindra Acacia Palms, located close to Colva Beach offer a perfect stay for a joyous vacation.
Visit the beach and make a splash or take a stroll on the sand. Play a game of beach volleyball or have a pool party with other families. As you get busy partying, you can send your kids to have their share of fun as there are special activities for kids of all age groups ranging from t-shirt painting, pot painting, archery, and cricket.
Families may also discover south Goa by going to museums, churches, flea markets, or shacks while enjoying all the amenities at Club Mahindra Acacia Palms.
Club Mahindra Puducherry, Puducherry
Pondicherry is a wonderful destination for a vacation in the south. Your family will find a variety of experiences in the "Mini France of India." You get direct beach access at Club Mahindra Puducherry, thanks to its proximity to the water.
The 24 acres of green at Club Mahindra Puducherry is made up of numerous trees and lovely gardens. While staying at the resort, take advantage of the warm welcome, unsurpassed elegance, and delectable cuisine. You can also try activities like ATV bike ride on the beach, take a tour around the local village to learn about the local way of living, and get an insight into their rich culture. Your kinds can create sandcastles at the beach or have a mix of fun and learning by going to the Fun Science Lab. For the more adventurous ones there is a pirates adventure park and virtual gaming zone.  
Nothing brings together a group like the fun physical activities in resorts. Partake in different kinds of exclusive activities at the Club Mahindra family resorts listed here. Have a fun family time!
About Club Mahindra
Mahindra Holidays & Resorts India Ltd. (MHRIL), a part of Leisure and Hospitality sector of the Mahindra Group, offers quality family holidays primarily through vacation ownership memberships and brings to the industry values such as reliability, trust and customer satisfaction. Started in 1996, the company's flagship brand 'Club Mahindra', today has over 250,000 members , who can holiday at 100+ resorts in India and abroad.
JOIN THE CLUB