Jaisalmer—The Golden City
Jaisalmer is known by the name Golden City for its bountiful golden dunes and castles. The city has an inseparable place in Rajasthan tourism. The city is packed with colourful marketplaces filled with shops showcasing Indian culture and heritage. The desert resorts in the city offer pleasant stays in the middle of the expansive Thar desert.
Live like a king at Club Mahindra Jaisalmer
Club Mahindra Jaisalmer is where history and adventure meet. Breakfast like a king by having palatial delicacies. Start your day with an itinerary filled with adventurous experiences as well as cultural workshops—Witness traditional Rajasthani performances with your family and indulge in pot pianting. Meanwhile, also breathe in peace while at the resort.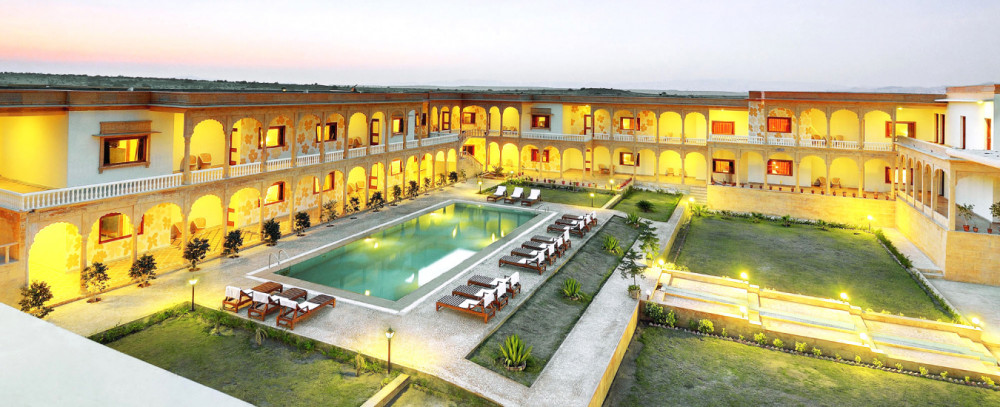 Engage in signature experiences at the resort
Pot Painting: Learn the traditional art of pot painting at Club Mahindra Jaisalmer. Give a chance to the artist in you and take back home a cherished souvenir.
Raja Rani Poolside Dinner: Raja Rani Poolside Dinner is a traditional dinner at a fantastic location. Get a royal treatment as you devour a gourmet meal.
Emboss Painting: Remember those vibrant murals and miniature paintings you saw on walls. Yes, now it's time to learn how they are made. Create beautiful murals by hands in this workshop.
Ghoomar Performance: Watch or better do this through traditional song and dance. The royal folk dance reflects the vivid culture of Rajasthan. The dance tells the stories of the ancient history, culture, and art of Rajasthan.
Bonfire Dining among Sand Dunes: Forget about candlelight dinner, dine in front of a bonfire. Not enough, okay add dunes around you. How does that sound?
Land Zorbing: Have a ton of fun doing land zorbing at the desert resort. A zorb is a giant, inflated PVC ball designed to bounce around and you are inside it. Also, in Jaisalmer, you zorb down a dune.
Explore Jaisalmer in its most real form with city experiences
Visit 18-crore-year-old Akal Wood Fossil Park: Thank your luck as you look into the enthralling history of life. Visit the 18-crore-year-old Akal Wood Fossil Park, around 25 kilometres from the desert resort.
Watch Winter Desert Festival: Winter is the season of laughter, colour, and celebrations, that too in the dunes of Jaisalmer. Jaisalmer Fort during the festival is fairy-tale like. Also, do not miss the best-dressed competition between uniquely decorated camels.
Desert Safari on Camel: The vast landscape of Thar Desert is genuinely captivating. What's more captivating? A safari on camels over the Thar Desert. Believe me when I say there is nothing more alluring than a camel ride on a desert. Alternatively, you can also experience the Desert Safari on a Mahindra Thar vehicle.
Longewala War Memorial: The memorial commemorates one of the most courageous battles fought by the Indian army—the Indo-Pakistani War of 1971. It is around 30 minutes away from the resort.
Visit Jaisalmer Fort: Visit the only living fort in India. Raja Rawal Jaisal built the fort in 1105, and it is now occupied by more than 5,000 descendants of the administrators and warriors who served the king.
About Mahindra Holidays
Mahindra Holidays & Resorts India Limited (MHRIL), India's leading player in the leisure hospitality industry, offers quality family holidays as also stated by Club Mahindra Membership resort reviews, primarily through vacation ownership memberships. While Club Mahindra Membership Fees gives you an opportunity to explore your holidays across the world, the other brands offered by the company are – Club Mahindra Resorts Fundays and Svaastha Spa. As on Mar 31, 2019, MHRIL has 100+ resorts across India and abroad and its subsidiary, Holiday Club Resorts Oy, Finland, a leading vacation ownership company in Europe has 33 resorts across Finland, Sweden and Spain. Visit us at www.clubmahindra.com
About Club Mahindra
Mahindra Holidays & Resorts India Ltd. (MHRIL), a part of Leisure and Hospitality sector of the Mahindra Group, offers quality family holidays primarily through vacation ownership memberships and brings to the industry values such as reliability, trust and customer satisfaction. Started in 1996, the company's flagship brand 'Club Mahindra', today has over 250,000 members , who can holiday at 100+ resorts in India and abroad.
JOIN THE CLUB